Home
Feb. 25 2015
Hello Wing Fans.
Wing will be out of town on a short medical leave. Wings singing service will be put on temporary hold from 2nd/ march/15 until further notice. Sorry for the inconvenience this is causing. Thank you and may God bless you. Wing looks forward to singing to the world again as soon as possible. She will make an announcement later upon Her return. Thank you Wing.
April 10
Attention Wing Fans. Wing will be on a special singing sabbatical from May 15th until June 5th 2014. Wing would like to thank all her fans for their kindness and understanding. She will resume her singing service again on June 6th.
Feb 19
Wing will be on BBC one Radio today, singing "Someone Like You" and "The Prayer" as well as wishing a special producer a big congratulations for their service. Way to go Wing!
Jan 10
Wing had 2 Christmas carols singing to her fans  to KROQ  Kevin and Bean morning show through its Afro line.  She would like to wish  all her fans  to have a Merry Christmas and a happy New Year for 2013.
Also; Wing has been shocked by the recient trageties in North America. She expresses her deepest sympathy to the families affected by the Newtown massacre.  As before she is singing a song; Bring Him Home; to pay respect to the deaths and their families through KROQ.
Wing wants her fans to know they never walk alone; try and stay possative and strong.  We will get through it together.
Wing will bringing a song; Hero ; to all her fans soon through KROQ Kevin and Bean show. Please look out for its broadcasting!
Right now Wing is offering a special singing service deal! You can choose a supportive song; YOU NEVER WALK ALONE;  or WHEN YOU BELIEVE; live by Wing to your friends or families in your booking.
Also
To all radio stations who have a telephone message line, can contact Wing for singing Both songs, live, to give support to all people in North America.
Order soon!
3. Wing is excited to announce she will be a guest on the Kevin and Bean radio show on KROQ106.7.  Singing the song, "You Never Walk Alone."  Wing will be singing this song to support people in North America affected by hurricane Sandy.  Tune in Nov. 14th at 10.05pm Hong Kong Time , 6.05am Los Angeles Time
Please note Wing will not be available for her singing service from  Dec 12th 2012 -  Dec 18th 2012, apologies for any inconvenience that this may cause.
Wings 21st CD, TELEVISION RADIO HEROES – OUT NOW, now available at http://cdbaby.com
8 new songs on the new cd are available for booking from the singing service now
Songs from Wings new CD are available for purchasing and a photo will be given for free with each song purchase.
One free Christmas Carol with any singing service ordered.
Who is Wing?
Wing the singer is admired by fans throughout the world for the passion and joy she shares through her CDs and performances of popular songs. With a unique voice and an ever-widening repertoire, Wing loves singing and she lives to sing. Her goal is to sing beautiful songs as they should be sung, and she spends 3-4 hours every day working towards this goal. Her singing teacher helps Wing work on her current repertoire, and helps to choose the songs for the next CD.
CD Releases
A New Zealand resident, Wing has released 20 CDs to date, and they have sold very well throughout the world, giving her a cult following. She is a regular guest on radio shows and television celebrity guest and entertainment shows, and has appeared on programmes as diverse as TAB Sports Cafe (New Zealand), Rove Live (Australia) and the animated television satire show South Park. Her live peformances have ranged equally widely in their staging, from old folks homes and hospitals to university gyms, private parties and corporate gigs. All of Wing's CDs are proudly manufactured by Forge Media.
International performances
* December 2008 – In San Francisco on New Year's Eve Wing opened for Joy Behar in her RRAZ Productions show
* October 2008 – Wing solo concert at Birdland, New York City. A return booking is being arranged.
* May 2008- Wing performed in BBC Radio 1′s annual Big Weekend music festival at Mote Park in Maidstone, Kent. Further UK performances are being planned.
* March 2008 – Wing played two shows at the SXSW Festival in Austin, Texas.
* August 2007 – Wing made her North American debut in the Wing Over America showcase in San Francisco.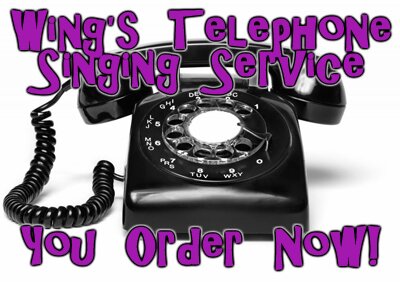 Wing's Telephone Singing Service-
Have Wing call your home an sing for you!
Have Wing call you on your Telephone and sing to you and your loved ones.
Makes the very best present, Relaxing, and HealingIdeal for serving as gift giving on Valatine's day, Easter Holidays, Mother and Fathers day, Graduations, promotions, Birthdays.
Any special Occasions and Events of all Kinds!
Makes the best present, So Relaxing, and Healing.
Keep Everyone Close in Touch By sending Wing's Singing Present!!!