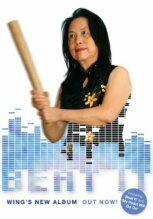 Please note. The following CDs are now sold out but are still availables as downloads.

"MUSICAL MEMORIES OF
Les Miserables and The Phantom Of The Opera"

"I Could Have Danced All Night"


"The Sound of Music and The Prayer"

"Wing Sings The Beatles"

"Wing Sings ACDC"

"Dancing Queen"

"Beat It"

About Wing
Wing Han Tsang (曾詠韓), the singer popularly known as Wing, has in a few short years achieved world-wide fame and a cult following that transcends borders and languages. When Wing sings, you cannot miss her sincerity and the pure joy she has for singing. With her unique voice and determined spirit, she has achieved what many singers can only dream of doing....
Getting started
Soon after emigrating to New Zealand from Hong Kong, Wing began singing for her own pleasure, and subsequently began entertaining patients at nursing homes and hospitals in and around the city of Auckland where she lives. She was encouraged by the response to her singing to consider making a recording, and with a grant received from Manukau City Council she released a very successful debut CD titled MUSICAL MEMORIES OF Les Miserables and The Phantom Of The Opera, featuring the title song from the Andrew Lloyd Webber musical, along with a number of other popular songs.
Taking her music onto the web
A web site was built to promote her CD, and sales took off. She soon achieved cult status, boosting demand for more CDs. Subsequent CD releases such as I Could Have Danced All Night, Wing Sings The Carpenters, The Sound of Music and The Prayer also sold out, and helped to gain her an international audience. Her CDs are available via CD Baby as well as in a number of CD stores internationally. Digital downloads are available via CD Baby and iTunes.
Wing's unique vocal stylings are sometimes compared with American Idol's William Hung, 60's star Mrs. Miller or opera singer Florence Foster Jenkins. She has garnered a huge fan base through her large volume of CD recordings (14 CDs to date) . These include: "Wing Sings Elvis", "Wing Sings AC/DC", "Dancing Queen by Wing" (the ABBA songbook), "Beatles Classics", and everyone's favorite, "Wing Sings the Carpenters".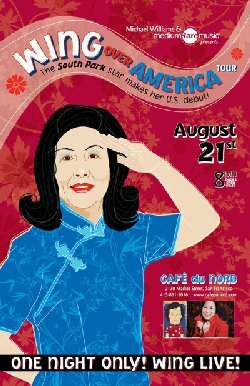 TV appearances - talk shows and South Park
Wing has appeared on a number of TV shows as a celebrity guest, including such shows as SportsCafe (New Zealand) and Rove Live (Australia). Samples of her music have also been played on The Russ Martin Show (USA). She is perhaps best known for her special guest star appearance on the animated comedy series South Park (USA) in an episode named for her in which recordings of some of her songs were featured. Sylvester Stallone was her co-star for this episode.
Live performances
Wing is steadily creating demand for her live performances. Having performed on radio and TV throughout New Zealand and in nursing homes, cafes, at private parties, and the 2007 University Orientation circuit, Wing aimed towards some international performances.
Wing in America, the UK and Australia
Wing made her live U.S. concert debut at Cafe du Nord in in San Francisco on 21 August 2007. Her "Wing Over America"showcase was presented to a full house and was promoted by Michael Williams and medium Rare Music. Wing received rapturous applause.
Since then she has appeared at SXSW (2008), the BBC1 Big Weekend Festival (2008), has performed concerts at New York's famous Birdland (Oct 2008) and Blue Note (Nov 2009) at the Castro Theatre in San Francisco (2009), and at The Zoo, Brisbane Australia. Further concerts are planned.